We painted our landforms today. This year we used watercolors which worked great! Last year we used tempera paint and the watercolors look much better and were alot less messy and easier for the kids. I love these landforms! Tomorrow we will label them with toothpicks w/ labels attached.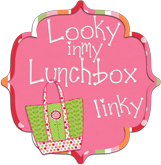 I'm joining up with the fun "Looky in my Lunchbox" Linky. Tara at 4th Grade Frolics is having a fun linky with a new lunch bag giveaway.
Now, I'm one of those teacher who eats with her kids! We have lunch from 11:45 - 12:00, during which teachers teach a nutrition lesson and then the kids go to recess from 12:00 - 12:30 and the teachers rotate through recess duty. Teaching nutrition is a little tricky in first grade with all of the containers to open and straws to stick in juice boxes and napkins to hand out, so kids don't put their food directly on their desks. We usually just do a discussion about the topic of the day. The kids are so smart - most of them have good info. to share with their fellow kiddos. So, on recess duty days I take something outside to eat while I watch the playground.
I'm embarrased to even show the photo of my lunchbox as it has become so tattered! So, I'll just show what in in my lunchbox today.
Today I have an extra special lunch - very different from my usual blah options. I have SUSHI! Yes, SUSHI! And, $9.00 a roll sushi. I went to Fry's to shop for a few basics and lo and behold they had remodeled the whole store and put in a sushi bar at the entrance. There was an sushi chef there serving samples of - TEMPTATION SUSHI ROLL!! I think sushi is okay, not great, okay. But.. the Temptation Roll is out of this world!
However, I did feel it was way too expensive for a "teacher lunch" so, I split it with my teacher hubby. I felt much less guilty taking a $4.50 sushi roll for lunch. So there you have it - sushi, a banana, rice cakes and an ICE.